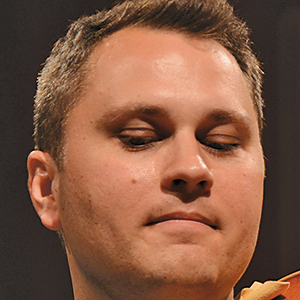 ALEXANDER WOODS
violin
Alexander Woods is a "showstopping" (The New York Times) violinist, baroque violinist, and violist, in high demand as a soloist, chamber musician, and orchestral leader. One of the most versatile and dynamic artists today, Alex is known for his "deft and sensitive" (The New York Times) playing. He has performed with groups such as New York Baroque Incorporated (NYBI), the Helicon Foundation, the Sebastians, the Talea Ensemble, the Orchestra at St. Luke's (New York), and the Utah Symphony.
A dual Canadian/American citizen, Alex"s international career has led him to perform at the Mostly Mozart Festival, Lincoln Center Festival, Festival Pablo Casals, Darmstadt Institute, Festival Wien Modern, Golden Mask Festival, Bang-On-A-Can Marathon Concert, International Viola Congress  (Wellington, New Zealand), Boston Early Music Festival Fringe Concert Series, NOVA, Intermezzo, and Music in Context chamber music series. He has performed at Carnegie Hall (Stern, Zankell, Weill), Lincoln Center (Alice Tully, Kaplan Penthouse), Trinity Wall Street, the National Arts Centre (Ottowa, Canada), Musée Des Beaux Arts, Montréal, and other important venues throughout the world in Russia, China, South Korea, Sweden, France, Germany, Austria, and Canada. 
A strong advocate for both historical performance as well as new music, Alex has performed and recorded premieres of unrecorded music from the baroque era, as well as new works by some of the great composers of our time, including John Adams, Alvin Lucier, and Tarik O'Reagan. A prolific and critically-acclaimed (Fanfare, Early Music America Magazine, Time Out New York) recording artist, Alex's work may be heard on the MSR Classics, Acis, Tzadik, Bridge, and Tantara record labels. His performances have been featured on BBC3 (United Kingdom), WQXR (New York), Classical 89 (Provo, UT), Colorado Public Radio, and others. 
Alex frequently collaborates with his wife, Ballet West Orchestra concertmaster Aubrey Woods, as the Woodsmusick Duo and the Woodsmusick Ensemble. Alex has performed recitals throughout the country with his father, Rex Woods, Professor of Piano at the University of Arizona.
Alex is an Associate Professor of Violin at Brigham Young University. His students have been accepted into some of the top music schools in the world, including the Royal Academy of Music, The Juilliard School, Indiana University, University of Michigan, Northwestern University, Rice University, San Francisco Conservatory, McGill University, and New York University. Many have gone on to win competitions, join professional orchestras around the country, and develop meaningful teaching positions. Alex is the founder and director of the BYU Baroque Ensemble, an early music chamber orchestra performing on original instruments created by the Violin Making School of America. He is also a member of the Faculty ensemble the Deseret String Quartet.
Alex studied at Yale University with Syoko Aki and Robert Mealy, the Manhattan School of Music with Pinchas Zuckerman and Patinka Kopec, and the University of Arizona with Mark Rush. He plays on a fine Italian violin attributed to Lorenzo Gaudagnini 1743 on loan from Brigham Young University, as well as instruments by renowned American makers Ryan Soltis (violin 2012), Jason Viseltear (baroque violin 2011, BYU loan), and Gary Vessel (viola 1988).
When he is not performing or teaching, Alex loves being home with his wife, Aubrey, and their three boys.