location & parking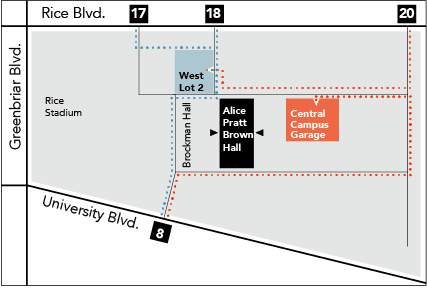 CONTEXT's 2023–24 concerts will be held at the Duncan Recital Hall in the Alice Pratt Brown Hall (The Shepherd School of Music) at Rice University, entrance 17, 18 or 20 off Rice Boulevard or entrance 8 off University Boulevard.
Parking for Alice Pratt Brown Hall
Surface parking is available in West Lot 2 accessible from Rice University entrance 8, 17, and 18. The lot requires the driver to insert a credit card (MasterCard, VISA, or AmEx).
For visitors with disabilities, accessible parking will be available at the south end of the lot, closest to the building.
A detailed map of Rice University is available at: www.rice.edu/campus-maps
Underground parking
is available at the Central Campus Garage, under the Jones School of Business, accessible from Rice University entrance 8 and 20.
Parking prices and policies are determined solely by the Rice University Parking Office.
For more information, visit Rice University Parking
"Music-making at its most captivating"
The Houston Chronicle
Support and Major Funding Provided by:
The Brown Foundation
The Cullen Trust for the Performng Arts
The Wortham Foundation