1826 GRAF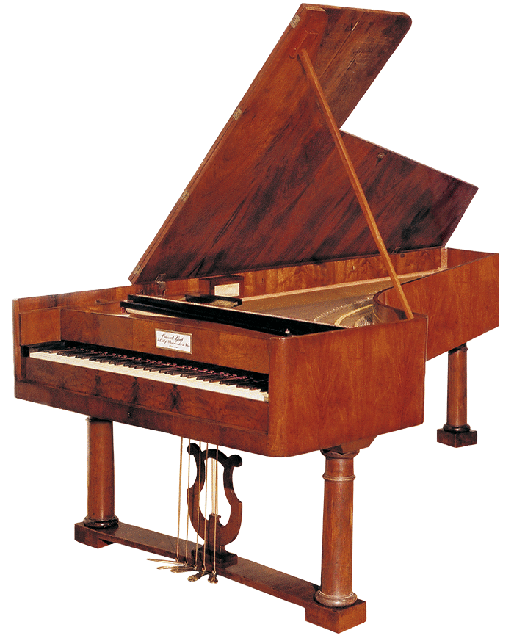 Built in Vienna c. 1826 by Conrad Graf (1782–1851). Graf was possibly the most famous Viennese piano-builder of his time. He began selling pianos in Vienna in 1811, and by his retirement in 1841 had made about 3000 pianos. He made pianos for Beethoven (just a couple of years before ours!), the Schumanns, and many other eminent musicians. Chopin played his Vienna debut on a Graf piano, likely very similar to ours. Context's piano has a 6½ octave range (CC-f4), and 5 pedals: shift, bassoon, double-moderator, damper, and Janissary (the inclusion of a Janissary pedal was quite rare in Graf's instruments). The veneer is cherry. Graf's pianos were celebrated for their stability, tremendous variety of nuance, their singing trebles, and for their exceptional power and heft in loud dynamics—though the instrument still has none of the metal bracing then being used by the French and English builders. The action is very light and responsive, and the hammers are, as usual at this time, covered with leather. This is a sterling example of the Viennese piano at the time of Beethoven's last Piano Sonatas (including the 'Hammerklavier') and the Diabelli Variations, Schubert's Piano Sonatas, and even the early music of Robert Schumann and Chopin.
There are perhaps 250 known Graf pianos in the world today. Most of them are wrecks. Many are in museums, and often unplayable. Some have been 'restored' (often poorly) to some degree of playability. A few have been skillfully restored to concert condition. Context's piano is extraordinarily rare—not only for its exceptional quality, but for its closeness to its original condition. The piano was found in 2001 in a rural home in Italy in virtually pristine condition. It was not warped or heavily damaged, had not been much played, and had not been 'updated' or altered. After initial cleaning and repair in Florence, the piano was sent to the Edwin Beunk workshop in Enschede, Netherlands, where it underwent minimal restoration to replace the strings and to strengthen the pinblock and bracing. The action, hammers, and dampers are still the original parts made by Conrad Graf.
Context's Graf piano is affectionately known as the Vaughn Graf piano, in appreciation for the generous encouragement and support of the James M. Vaughn Foundation, which made possible the restoration and continuing maintenance of this truly world-class instrument.