1852 BÖSENDORFER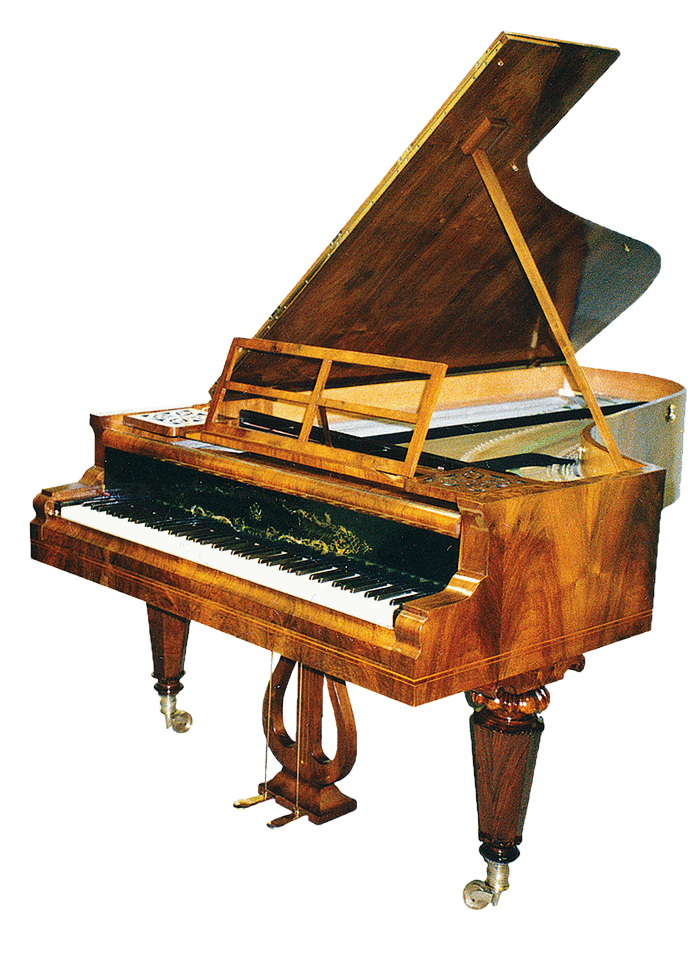 Built in Vienna c. 1852 by Ignaz Bösendorfer (1796–1859), the founder of the renowned piano company that still carries his name (now owned by Yamaha). The piano has a range of 7 octaves (AA-a5), and 2 pedals: shift and damper. Viennese piano builders were very slow to introduce metal bracing in their instruments, unlike the French and English builders who had been using iron bracing for decades. The 'action'—the moving parts including key, hammer, and damper—of Viennese pianos were also of a radically different design than the western pianos. Context's Bösendorfer has three metal braces that strengthen the larger size of the piano, and allow for heavier stringing under more tension, resulting in a longer-lasting and more penetrating tone. The hammers are larger than the earlier pianos, but still covered in leather.
Bösendorfer's pianos were prized for their warmth, velvety tone, and power, while still retaining the transparency and variety of register so beloved in Viennese pianos. Brahms and Dvořák owned and composed at very similar pianos, and a famous painting of Liszt shows him playing a Bösendorfer exactly like ours. Indeed, Ignaz's relationship with Liszt and others helped make his pianos—then and now—status symbols of taste and opulence.
This piano was found in a middle-class home in Hungary. It was in poor shape and unplayable. And the piano was black—it had been polished black at some point to make it look more like a modern piano. The piano was sent to the Edwin Beunk workshop in Enschede, Netherlands (the world's foremost restorer of historical pianos), where it underwent a full restoration, and where its beautiful original walnut veneer was uncovered and polished.
By the beginning of the 20th century, the unique mechanical design and tonal concept of the Viennese-style piano was no more. The English-style design—with its easier-to-play mechanism and more homogeneous tone—came to dominate the world market. Bösendorfer pianos are still made in Vienna—but now they are descendants of 'English' builders!